How to extend the service life of outdoor playground equipment
Views:0 Author:Site Editor Publish Time: 2020-08-26 Origin:Site
Outdoor playground equipment not only provides fun to it users ,but also help people keep their body healthy. While the use and maintenance of outdoor playground equipment are often ignored in using process. Thus the service life of it is affected. The directly reasons of playground equipment outsides breakdown are analyzed and correct way of its using as well as noticed items of maintenance are introduced with the aim to extend the service life of outdoor playground equipment and cut down replacing costing.

This article contains the following:
Inspections
Records
Regular Maintenance and cleaning
Repair
Replacement Plan
Inspections
Keeping playground equipment properly inspected is essential to the safety of the people who play there and is also one of the keys to extend the service life of it. Whether the outdoor playground equipment is brand new or a few years old, you need to make sure you have two kinds of safety inspections in place to keep it work-the regular inspections and the detailed inspection.
The regular inspections are done more often briefly checking each playground item and the surrounding environment. They can be done on a daily or weekly basis looking for such things as vandalism, twisted swing chains, broken swing seats, exposed concrete footers, loose bolts or rails, broken glass, standing water, etc. The detailed inspections are performed on a regular basis and evaluate the structural integrity of each piece of equipment and its surfacing. Detailed inspections are a more detailed examination conducted monthly, quarterly, or annually that check each playground inventory item. These inspections are inventory specific and check for proper surfacing depth, entanglements, head entrapment, loose components or footers, excessive wear, missing hardware and any other situations that create a hazardous play environment.
Records
Besides routine outdoor playground equipment inspections, it is essential to always record them. Accurate and organized record-keeping is the basis of an effective maintenance program. Taking note of problems, as well as the corrective actions, and keeping the records organized is vital to keeping the outdoor playground equipment safe, and keeping your organization safe from injury related lawsuits. It is recommended to use a checklist while performing routine maintenance checks.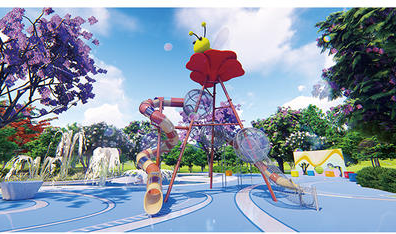 Regular Maintenance and cleaning
Every month, giving the metal parts of outdoor playground equipment with oil to make sure they don't rust. Each year, when the weather gets warm, preparing the playground equipment for the season. Check for insect and animal habitation around the playground area, and sweep the dust away if necessary. Apply a fresh coat of polyurethane to keep the outdoor playground equipment looking like new. This step is recommended enough since sun and water damage are the things that will age the piece the most.
Repair
While performing a thorough inspection of the outdoor playground equipment, if you come across a problem, assess the damage or issue and consult with a maintenance professional when necessary. Children are not always deterred by broken playground equipment outsides and in some cases, may even be drawn to it which is why it is important to repair or remove any potentially hazardous equipment or obstructions as quickly as possible. While some problems are easily repaired, significant issues may require the purchase of replacing equipment. Be sure to check the equipment warranty carefully with the manufacturer and put forward any questions you may have.
Replacement Plan
If your outdoor playground equipment is 10 to 15 years old or older and you are seeing the effects of wear and tear, consider putting a 'replacement' plan in place so you're prepared when that day comes. Replacing the outdoor playground equipment in time will help you prevent bigger financial losses.
Experience has told us that proper maintenance ensures the longevity of outdoor playground equipment. Having the things above figured out will help to make any new additions or new playground projects a better success.