Introduction for outdoor playground equipment for kindergartens
Views:13 Author:Site Editor Publish Time: 2019-11-22 Origin:Site
What is the importance of outdoor playgrounds for young children?

How to choose the right kindergarten outdoor playground equipment?
How to improve kindergarten outdoor playground?
Conclusion
Outdoor playgrounds play a vital role in the development of young children. Therefore, in order for children to make better use of outdoor rides, parents should understand the Introduction for outdoor playground equipment for kindergartens.
What is the importance of outdoor playgrounds for young children?
Finding age-appropriate activities for young children or children can be a challenge. Preschool children between the ages of 2 and 5 have much more control over their bodies and can introduce new preschool equipment that requires more physical fitness. With an appropriately sized early childhood outer space playground equipment, children of this critical age can further develop their muscle control and fine motor skills to prepare for the kindergarten.
Children's outdoor ride inventory includes climbers, ramps, step ladders, single ladders, slides, spiral slides up to 360 degrees, stairs and horizontal ladders (4-5 years old) less than or equal to 60 inches high, perfect for toddlers and Child. The outdoor playground product line also includes imaginative outdoor play equipment, learning panels and music panels.
The pre-school outer space playground equipment provides an excellent opportunity for active play and exploration, making these products an excellent choice for preschoolers, day care facilities or parks. Outdoor play time is critical for young children, and preschoolers learn important and valuable new skills through this active game. If you are interested in building or updating a preschool outdoor playground, carefully choose a children's outdoor ride to create a welcoming environment for sports, imagination and educational games, as the well-designed preschool outdoor playground provides a safe space for activities and adventures. .
How to choose the right kindergarten outdoor playground equipment?
Choosing the age-appropriate item is a major factor in choosing a new outdoor play equipment for the kindergarten playground. Kindergarten playgrounds should be characterized by activities and structures that cater to the needs of young children, as children derive maximum development benefits from appropriate design activities at the level of motor skills, physical strength and cognitive development. Not only does this enhance their gaming time experience, but the choice of age-appropriate equipment, such as an appropriately sized preschool climbing structure, is also an important part of creating a safe outdoor play area for young children.
If your kindergarten is used for other community purposes or is often entertaining older children, consider looking for preschool outdoor playground equipment that meets the developmental needs of older children. While some items are designed specifically for children under the age of five, many activities and structures are safe for young children and still interesting for children ages 5-12. When exploring the inventory of children's outdoor play equipment, always consider the unique needs of the kindergarten.
In addition to the selection of outdoor children's outer space playground equipment for ages, it is also important to address the safety issues affecting preschool children's outdoor play areas. Careful planning of safety features helps ensure that your new entertainment area is a safe place for energetic toddlers. Surface treatment is an important protective feature when installing outdoor playground equipment for preschool use. While injury is inevitable in active games, choosing the right surface material and installing additional safety measures can help mitigate the harm of active games to kindergarten swings, slides and climbing structures. Proper surface treatment will depend on the type of kindergarten outdoor play equipment you have and the budget and aesthetic considerations.
In addition to the protective surface, the condition of the game area is carefully evaluated and other safety measures such as safety boundaries and shading structures are required. When building a kindergarten playground, it is also important to consult official government guidelines to ensure that all equipment selection and safety measures are in accordance with current local and national standards.
How to improve kindergarten outdoor playground?
Get professional design and layout advice.
Choose equipment and surfaces that meet the standards.
Be sure to install by qualified personnel.
Post-installation inspection by an independent agency.
Check the playground and equipment regularly.
If you are checking, please attend the training course. Annual inspections should be conducted by independent experts.
There is an effective maintenance program that can quickly fix the problem.
There is a plan to improve and update the playground.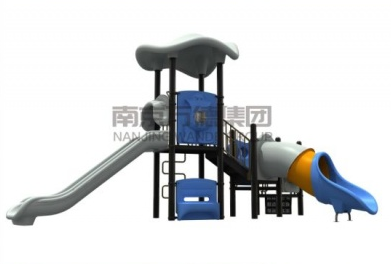 Conclusion
Children can use the outdoor playground equipment to conduct independent game activities and stimulate more imagination, promote exploration and discovery and encourage the development of physical and social skills. If you want to buy safe, fun and high quality kindergarten outdoor play equipment, the Wande Group has the perfect product.