What elements should a good playground have?

Wande Group's Hot Products
The projects of WANDE playground equipment
summary
When children play in the playground, their bodies get aerobic endurance training, and they have a lot of fun there. But when you want to buy indoor playground equipment or outdoor playground equipment, you may be confuse that which playground company should you choose?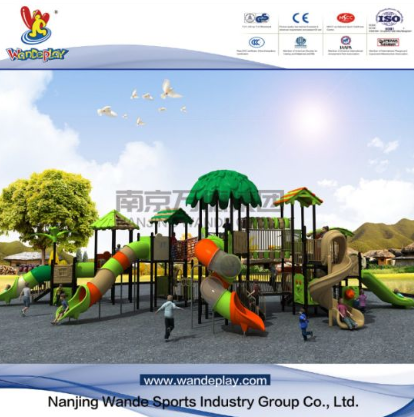 What elements should a good playground have?
1. Exercise. A game space should encourage children to run, jump, throw, throw, jump, slide, swing, climb and move. Indoor playground equipment should have movable parts: swings, movable panels and balanced activities with movable parts.
2. Integrate into nature. Good outdoor playground equipment should be integrated into the natural world around it. Many green spaces are the key to activities. Elements such as sand and water provide a dynamic environment for children to use their manipulation skills.
3. Interesting to see. Indoor playground equipment and outdoor playground equipment should look should look, sound and feel interesting. Sound, color and texture stimulate the senses and ignite children's imagination.
4. Balance. Balance is an important skill for children to develop - and more importantly, they usually enjoy it! Playgrounds should have unusual balance elements, testing their participants for balance savvy.
Wande Group's Hot Products
Products include: children's playground, outdoor fitness equipment, indoor playground equipment, outdoor playground equipment, climbing rope net, joint fitness equipment, leisure equipment, sports equipment, sports venues, sports parks, tennis stadium, obstacle running, skating rink and other series of overall solutions.
The projects of WANDE playground equipment
All AGE Smart Sports Parks
Wande Intelligent Sports Park is a sports park featuring age coverage, intelligent services, theme scenarios and international standards. Scientific exercises based on the concept of all the population are conducted for all age groups, including children, adolescents, middle-aged people and the disabled. The planning and design of the park takes into account the physical characteristics, function and sports development of each group, as well as psychological and social interaction. Taking "mobile Internet + sports interest theme + fitness cloud expert" as the core connotation, we will be able to provide scientific fitness cloud guide, music intelligent tracking, physical health monitoring and fitness equipment maintenance management.
Chongqing Bishan Yue Sports Park
Dongyue Sports Park is the largest one in Bishan, Chongqing. It is the only theme park welcomed all year round. It integrates eco-park and sports skillfully. Since it was put into use in September, 2017, it has attracted great attention. Dongyue Sports Park has become a model of sports parks all over the country.
Fengxianghu Children's Park, the largest uninhabited recreational facility in China, in Bishan District of Chongqing, covers an area of more than 800 mu. The theme of Fengxianghu Children's Park is children's recreation. It is based on farming and reading culture. It integrates entertainment, science popularization and landscape with 16 themes. District. Combining with the ecological, cultural and landscape elements of the park, Nanjing Wande Group has carried out personalized construction of the whole project, and built seven thematic areas such as aerial exploration, sand pool, bell tower, ball tower area, sailing area, water world and puppet adventure. According to local conditions, make the recreation equipment perfect into the park green and water body, create a space for children to enjoy the game. All thematic areas are based on children's fun to make dreams come true.
Shanghai Overseas Chinese City Happy Valley Paradise Shanghai Happy Valley.
Biscuit Sheriff's Children's Paradise, covering an area of about 4.8 acres, was put into operation in February 2019. This is a theme customized Park created by Nanjing Wande Group. It cooperates with famous entertainment scenic spots. The Park focuses on the theme IP image of Happy Valley "Chief Cookie". The overall color is bright and the shape is novel and interesting. The famous theme park designed by Nanjing Wande Group has become a major breakthrough in the field of theme parks, opening the door for cooperation with well-known theme parks and becoming the representative business card of theme park areas.
In addition, Vander Group's projects include the Russian Project (Moscow Sports Park), the British Project and the Vietname Project.
Summary
Children are more likely to develop vitality and imagination when they remain in such a safe and secure environment full of adventure. If you want to buy safe, interesting and high-quality indoor playground equipment or outdoor playground equipment, the Wande Group has the perfect product.