What is an outdoor fitness equipment?
Views:0 Author:Site Editor Publish Time: 2021-01-14 Origin:Site
People are paying more and more attention to the pursuit of excellence in life, and fitness has become an activity that people enjoy. The reasonable use of outdoor workout equipment will bring joy to both body and mind after a tiring day and release the pressure accumulated during work. Outdoor workout equipment is not only exclusive to the community, in fact its application field has spread to all aspects of life.

Here is the content list:
What does outdoor workout equipment look like?
What are the tips for using outdoor workout equipment?
How to carry out overall planning of outdoor workout equipment?
What does outdoor workout equipment look like?
In the summer evening, if you pass by an outdoor workout equipment area, you will find that it is more lively than other places. Outdoor workout equipment is more attractive to people pursuing health than air conditioning. They may gather in groups, chat while work out, or wear headphones and immerse themselves in their own world using outdoor workout equipment. We can simply classify the outdoor workout equipment used by these two types of people.
1. Whole-body fitness equipment
The whole-body outdoor workout equipment allows multiple people to perform cyclical or selective exercises on one equipment at same time. This kind of fitness equipment is larger in size and more versatile. It can make your whole body move. It requires a combination of hand and brain to complete this training task together.
2. Partial body fitness equipment
This kind of outdoor workout equipment has a compact structure and covers an area of less than 5 square meters. Its function is relatively simple, mainly focusing on the exercise of local muscle groups. Due to venue restrictions, in fact, partial outdoor workout equipment is the protagonist for the sports area of the community.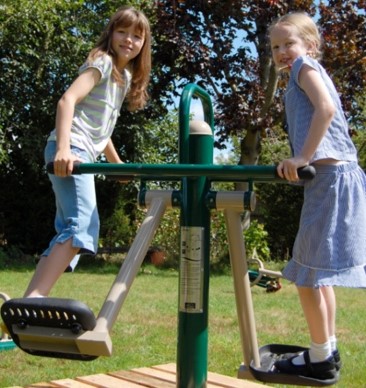 What are the tips for using outdoor workout equipment?
When it comes to autumn and winter, the temperature will go down rapidly, and the quickest way to heat up is to exercise. Especially for the elderly, outdoor workout equipment is a good helper to stay healthy. When using this equipment to improve immunity, everyone also needs to pay attention to their own safety issues.
Before using outdoor training equipment, you must pay attention to warm-up exercises. Never use all kinds of outdoor fitness equipment directly without warming up. If the muscle is in a tight state, it is easy to cause muscle strain or cramps.
Choose the right outdoor fitness equipment for you. Because ordinary outdoor fitness equipment is not limited for a certain group of people, but a combination of users of many different ages. When children use outdoor training equipment, they should not only pay attention to the choice of size, but also should be under parents' care.
In the use of outdoor fitness equipment, you should pay attention to the time issue. Many people tend to exercise for a long time without knowing it, because of chatting or using outdoor workout equipment too easily, and the result is soreness the next day. Excessive exercise will not only release stress, it will also reduce your energy.
How to carry out overall planning of outdoor workout equipment?
Outdoor workout equipment also requires overall planning and design. Such supporting areas are not only serving a part people of the community. Every member of the community can feel an exquisite outdoor workout equipment area that is tacitly matched with the surrounding landscape facilities.
Through planning and layout, some details can be supplemented. Outdoor workout equipment can be used to improve the quality of community life, which has a visible effect.
In many urban old communities or urban villages, advanced outdoor workout equipment is basically absent, but the current community should carry more urban life functions besides housing. You can choose a company that has the ability to implement unique outdoor workout equipment planning and layout to make your community more attractive.
Nanjing Wande Sports Industry Group Co., Ltd. provides unique outdoor exercise equipment regional design, matched with competitive and personalized services in the industry, to ensure that every outdoor training equipment performs its due role. If you have any suggestions for our outdoor training equipment, you can also visit our website to give feedback. We welcome you at any time.