Type of indoor playground equipment

Two key factors in developing an indoor playground
How to ensure the safety of children in indoor playgrounds
Conclusion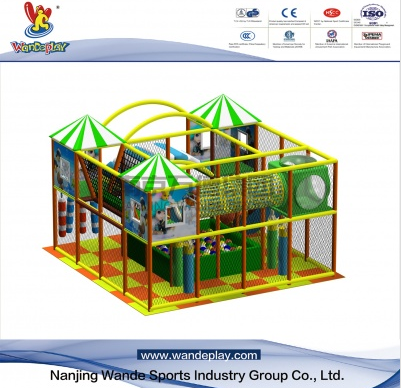 Indoor playground equipment is not completely different from outdoor structures, but they are usually smaller, softer and more modular. In addition, the indoor play area has a variety of play equipment to play with. Therefore, the children will not be bored. However, what're the types for the indoor play equipment?
Type of indoor playground equipment
Add interactive fun and creative games to shops, daycare, restaurants, kindergartens, parks, places of worship and even families. Different types of indoor playground equipment are designed to educate children to collaborate, share, coordinate and imaginative games. Their size, type, target age group, skill and modularity are different.
Floor mats are a particularly easy to obtain model for different types of indoor playground equipment. Floor mats are sometimes combined with other activities, but they are very effective in keeping children's interest. These are rubber, carpet or plastic parts of the floor, dyed or woven to form a puzzle, game or labyrinth. For example, they might have a tic-tac-toe board with Velcro X and O, or a track with a small felt car.
The obstacle course is a more practical game system. This indoor playground equipment combines creativity and movement. The barrier course has different elements that can be used separately, but it is designed for children to run continuously. These have developed the coordination of children's movements. For example, the course may allow children to slide off the slopes, balance the beams, climb the rope wall, jump off the platform, slide the fireman's pole down, and then pull yourself over the monkey railing.
Obstacle courses can be seen as a way to play with large gaming systems such as the jungle gym. These multi-layered plastic structures allow many children to climb, swing, jump, slide, hang and roll in different areas. These types of indoor playground equipment are permanently installed in community centers and schools to handle the entire class during daycare or breaks.
The castle indoor playground is another example of an indoor playground facility. These are blown platforms or rooms that allow children to jump, bounce and roll without fear of falling or hitting a hard surface. Sometimes they will be used in conjunction with other toys such as plastic balls or soft Frisbees. The Castle indoor playground has a variety of themed shapes, the most common being the castle, as well as carousels and spaceships.
Two key factors in developing an indoor playground
1. Inclusive. A successful inclusive indoor playground will encourage interaction between children of different abilities. Voiceofplay.org pointed out that "inclusion is an important value that children learn from the playground. Studies have shown that children give value to those who "think" to play and those who can't play. They believe that those who compete are contributors, Those who do not participate in the competition are not. Therefore, disabled children who are prohibited from playing on the playground - because they do not have inclusive indoor playground equipment or surfaced - are already facing the value of children who are considered by their peers to be playing more than they are playing. The downside. "Planning inclusive games will include simple and sensible choices to ensure you build a sensitive and intelligent early childhood community.
2. Security. Fun is always a risk factor, and uncontrolled excitement on indoor playgrounds can sometimes lead to harm. While security is considered in all projects, it is important to review international standards and implement local guidelines. Make sure your indoor playground area is equipped with a soft landing surface, no sharp edges and follow safety guidelines. We must work hard to ensure that children can provide exciting and safe places to explore!
How to ensure the safety of children in indoor playgrounds
Safe playground equipment and adult supervision are very important, but it's only half of the equation: children must know how to be safe and act responsibly on the indoor playground.
Teach your child:
Do not push or thick on jungle gyms, slides, seesaws, swings and other equipment.
Use the device correctly - first slip the foot, don't climb outside the guardrail, don't stand on the swing.
If they want to jump off the device or slide, be sure to check to make sure no other children are blocking the road and their feet are landing with the knees slightly bent.
Keep bicycles, backpacks and luggage away from equipment and indoor playgrounds to prevent anyone from tripping over.
Always wear a helmet when riding a bicycle, but remove the helmet from the playground equipment.
Never use wet castle indoor playground equipment as moisture can make the surface slippery.
Wear clothes without straps or ropes. Pull cords, wallets and necklaces may be caught on the device and accidentally kill the child.
Conclusion
The indoor playground is a great place for children to hang out, meet new people and have fun. It consists of different types of equipment, giving children life time and the necessary exercise to help them develop their social, cognitive and physical skills early in life. If you want to buy safe, fun and high-quality indoor playground equipment, the Wande Group has the perfect product.