What types of outdoor playground equipment are there?
Views:0 Author:Site Editor Publish Time: 2020-09-29 Origin:Site
Playgrounds of all shapes and sizes offer kids the opportunity to the opportunity to play. The bright colors and stimulating configurations of a great playground can engage kids in ways they don't experience anywhere else, giving them a chance to let their imaginations run wild. While playgrounds have evolved over the years to include more safety and accessibility features, you'll find many staples at any kid-approved play site.

The main points are as follows:
The types of outdoor playground equipment
The safely methods for playing outdoor playground equipment
The most popular outdoor playground equipment
1. The types of outdoor playground equipment
Swings
The most basic element of a classic outdoor playground equipment is the swing. It is a seat attached to a thick chain or rope and hangs from a metal frame. It is a timeless piece that will be used for years by children and even adults. We want everybody to enjoy the thrill of safely soaring through the sky, and our variety of seats makes it possible for toddlers, infants, children, and adults to swing.
Slides
You will find very few outdoor playground equipment that don't have a slide in some shape or length. Children race up to the top to quickly slide down in a matter of seconds. Tunnel slides are a favorite for parents because there are no unsafe edges. Children love the fun rotation of a spiral slide. Spiral slides are a fun element to add next to a more basic slide with a straight line.
See-Saws
We remember what it was like playing on a see-saw, and want it to be an option for all of our playgrounds. It isn't only for older children to bounce back and forth, our different sizes make it possible for toddlers and even four children to hop on and enjoy.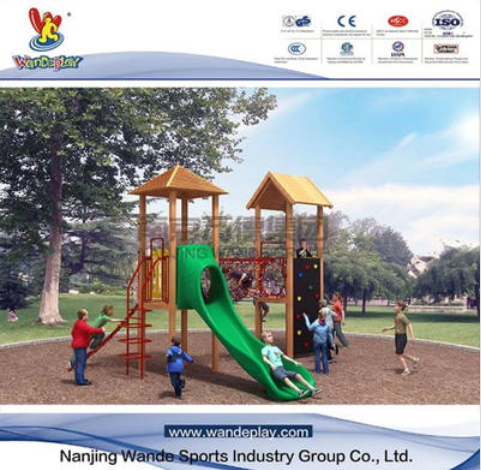 2. The safely methods for playing outdoor playground equipment
Kids should know to:
Never push or roughhouse while on jungle gyms, slides, seesaws, swings, and other outdoor playground equipment.
Use outdoor playground equipment properly — slide feet-first, don't climb outside guardrails, no standing on swings, etc.
Always check to make sure no other kids are in the way if they're going to jump off outdoor playground equipment or slide, and land on both feet with their knees slightly bent.
Leave bikes, backpacks, and bags away from the outdoor playground equipment and the play area so that no one trips over them.
Always wear a helmet while bike riding, but take it off while on outdoor playground equipment.
Never use outdoor playground equipment that's wet because moisture makes the surfaces slippery.
Check outdoor playground equipment in the summertime. It can become uncomfortably or even dangerously hot, especially metal slides, handrails, and steps. So use good judgment — if the outdoor playground equipment feels hot to the touch, it's probably not safe or fun to play on. Contact burns can happen within seconds.
3. The most popular outdoor playground equipment
Tango Swing Seat
The Tango swing seat allows an adult or an older child to swing face-to-face with the toddler, promoting intergenerational play and positive interaction.
NRG Steel Trail Play
A modular range boasting contemporary curved lines and exciting physical challenges, our NRG trail play system supports children's physical development and helps them build confidence and coordination skills.
Meeting Points
Outdoor seating areas designed specifically for older children and teenagers, to provide them with a safe space to hang out with their friends.
While we continue to create and develop new outdoor playground equipment, the names of a series of equipment are usually a big category of classic amusement facilities. Swings, slides, climbers pointing upwards, saws, merry-go-rounds, spring riders and pipes are basic knowledge. There are various sizes, styles and themes to suit the uniqueness of your layout.