Where can outdoor playground equipment be applied
Views:0 Author:Site Editor Publish Time: 2020-09-03 Origin:Site
Where can outdoor playground equipment be applied? As adults, all of us have memories of playing outside playground equipment on playgrounds in our neighborhood parks and at recess in the schoolyard, daycare centers and other places. The outdoor play equipment for kids, adolescents and adults provides them space to play and rest, as well as memories to recall all the time.

This article contains the following:
For Daycare Centers
For Schools—Extend Learning Outside Your School
For Parks—Providing comfortable living Community
Other uses
For Daycare Centers
Infants and toddlers are learning crucial skills at early stage of baby and children. A daycare plays a crucial role in children's growth in a safe and fun learning environment and should be equipped with outdoor playground equipment like football tower equipment, cartoon playground equipment, sliding cable equipment and so on. If you own a daycare, you're likely passionate about providing the best possible experience for the children in your care both to improve enrollment and educate inside & out. A great daycare playground system can realize your goals by helping you support children in growth, curiosity, fun and creativity.
For Schools—Extend Learning Outside Your School
It is gradually acknowledged that a traditional playground, school garden space, wooded area, covered pavilion with seating or structured dramatic play area, outdoor common areas offer health benefits along with new opportunities for learning. Participating in games and exercises is as important as education for children as it ensures the holistic development of a child. Outdoor playground equipment make it easier to create outdoor education spaces that are functional and inviting as balancing mental and physical activity makes students more productive. It is concerned with the health and well being of our nation's children. Therefore, it is essential for students to invest a good amount of time in games provided by outdoor equipment. These days academic institutions too put emphasis on outdoor games which obviously involves a great number of muscle movements , PE, and outdoor swing playset as well as some outdoor fitness equipment to help children improve their communication among their peers. Games not only help them to grow better but keep them happy and well-engaged.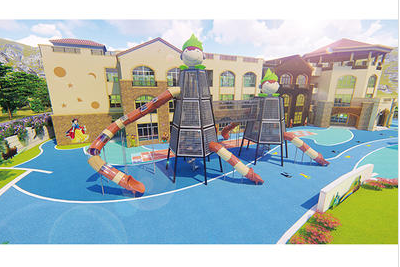 For Parks—Providing Comfortable Living Community
A park is an important community hub, where neighbors and newcomers alike can bring their children for stimulating play. Parks with good outdoor playground equipment and outdoor fitness equipment help children establish healthy habits for life and promote health and wellness among adults. To bring a community to life, you can equip it with a new playground system that is durable, fun. Whether for a small town or large city, rural or urban areas. The equipment in it is a direct reflection of the conformity and level of a community and will thus affect the price and likeness attached to it.
Other uses
Outdoor Play Equipment for Kids, students and adults gets everyone active and immersed in fun. If you want to build inclusive, active, and family-focused play and recreation spaces, you need playground equipment outside.
In all, Outdoor playground equipment can be applied to daycare centers, schools, parks and any other spaces if you want to provide a good environment for children's growth and adults' health keeping and fun. In doing so, the public and commercial benefits behind it are always beyond imagination.