How to choose suitable outdoor fitness equipment?

How to install outdoor fitness equipment?
Daily Maintenance of Outdoor fitness equipment
Conclusion
Choosing children fitness equipment can be an arduous activity. Choosing the best equipment for your children can be very challenging, let alone how to install outdoor fitness equipment.
How to choose suitable outdoor fitness equipment?
Safety: Of course, the best outdoor fitness equipment for children is safe. No child will find suitable and dangerous children's fitness equipment. In fact, it is more likely to leave sad memories for children and friends of the same age who suffered in that playground. Correctly designed outdoor fitness equipment is the ideal choice. Experts can advise you on complete technical details, but according to the appropriate standards for outdoor fitness equipment design, accidents are significantly reduced. Find a reliable professional who can help you check safety standards from design to installation.
Style: The design style of outdoor fitness equipment for children also determines whether the equipment is the best. Ideal child fitness equipment designs are those that stimulate creativity, discover, provide fun and minimize the risk of injury. In addition, children like exquisite design, so choose outdoor fitness equipment design to provide your children with adventure, simulation and entertainment.
Color: Closely related to the design is the color of outdoor fitness equipment. The appearance of children's fitness equipment is very important. This is one of the factors that make outdoor fitness attractive to children. Choose amazing colors that attract children. After all, you need children's fitness equipment, which will motivate them to go outdoors. Therefore, in addition to the fun children get from fitness equipment, you can also ensure that outdoor fitness equipment looks beautiful.
Function: The outdoor fitness equipment you choose should be functional to meet the needs of children of all ages and abilities, as long as they want to play. In addition to providing the obvious benefits of interesting games, look for the best options for developing children's motor and cognitive skills to use them. The best outdoor fitness equipment allows children to develop their talents as they grow up.
Durability: If you want the best outdoor fitness equipment, remember to consider durability. Since the equipment is suitable for outdoor space, it is recommended to choose equipment made of materials that can withstand all weather factors. Strong materials are also essential to avoid damage and accidents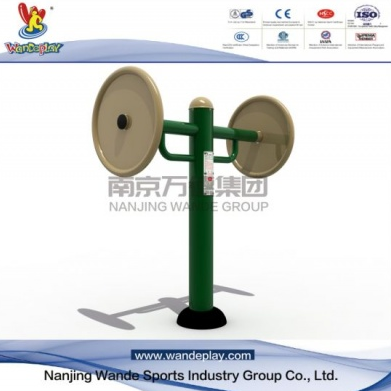 How to install outdoor fitness equipment?
The installation of outdoor fitness equipment is not complicated, but because of its strength and durability, it is very heavy, of course, it needs some muscle strength.
The skill required is only the level of fitness equipment for children. If installation requires assistance in finding contractors, several professional organizations provide resources for skilled contractors, such as the National Association of Amusement Ground Contractors. The cost of installing outdoor fitness equipment is not included in the price of individual equipment, and may vary greatly between contractors or bidders.
The installation of outdoor fitness equipment is mainly to prepare holes for concrete foundation. The device is embedded in concrete of 50 or 30 centimeters. Attention and skill are needed to ensure the vertical and horizontal alignment of the equipment and the level of the equipment.
If necessary, outdoor fitness workers will supervise the installation process. Usually, this is not necessary, it may increase the cost. Once arranged, experienced outdoor fitness workers will answer the phone all day through the installation process to answer any questions that the installation personnel may encounter.
After receiving the equipment, if the equipment needs to be stored before installation, it is recommended that the equipment be stored in a dry and safe room until the scheduled installation begins.
Daily Maintenance of Outdoor fitness equipment
Many routine maintenance tasks are essentially supervisory and can be performed regularly, such as:
Pick up garbage
Sweeping aisles, paths, or areas
Check potential wear points and mechanisms of outdoor fitness equipment by moving
Check and tighten hardware connection
Check any damage to outdoor fitness equipment caused by external components.
Horizontal and/or replacement of displaced loosely packed surfaces
Loosen any compacted surface to make it uniform and easy to move.
Conclusion
Outdoor fitness equipment can be used free of charge, and can encourage children to exercise, while it is not particularly difficult to install. If you want to buy safe and high quality outdoor fitness equipment, the Wande Group has the perfect product.