What are the precautions for using school fitness equipment?
Views:0 Author:Site Editor Publish Time: 2020-10-15 Origin:Site
With the development of the economic,more and more people start to pay high attention to their health.More and more outdoor fitness equipment is installed outdoors.More and more people enjoy using outdoor fitness equipment to exercise.It is become popular recently.But what is outdoor fitness equipment?I will show you my understanding about outdoor fitness equipment.The article will be taken into three parts.

This article contains the following:
Introduction
Application
Precautions
1.Introduction:
There are all kinds of outdoor fitness equipment which have different uses.They are manufactured for being used to exercise.The different equipment suits the different users.They are made by Galvanized steel painted with non-toxic electrostatic paint and LLDPE plastic.The good material is free of lead and cadmium ,100% safe for health and environment.They make the sports be interesting.The Children fitness equipment is designed for children.For example,Children can increase joint flexibility by using Children's Tai Chi Discs outdoor fitness equipment.The instructions indicate you to hold the handles with both hands and turn the two wheels in the same or different directions simultaneously.If you need to train your limbs,you should choose the limbs training equipment,like out door rear stretch upper limb training equipment.There are also provide the Senior,disabled or adults fitness equipment.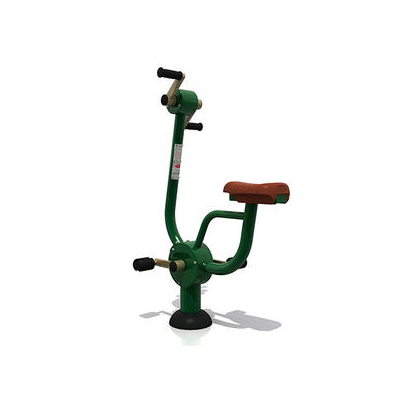 2.Application:
Nowadays,a lot of people are lazy to do exercise.Most of them indulgent themselves in playing the computer games.It is really a bad solution for everyone,the school should encourage students to using school outdoor fitness equipment.The outdoor exercise can help us keep health and the outdoor fitness equipment can catch our curiosity.So we will be willing to do exercise outdoors.The fitness solutions are installed in the park to attract the tourist and make them feel pleasure.They are also installed in a housing estate for the resident's leisure and entertainment.At school,Students often relax themselves by using school fitness equipment.People relax their physiology and psychology by using them.It is also a good opportunity for all of us to embrace the nature.
3.Precautions:
As we all know,accident will happen when people exercise in a wrong way.But if everyone follow these key points,the risk will be minimized.I will take the tips into four parts.
Part one is about how to choose the certified productions.The provider of the equipment should purchase the outdoor fitness solutions from the professional manufacturer in this industry.They should confirm if the equipment is certified by the relevant certification ,like GS,TUV,NSCC,ISO9001,14001,18001 etc.
Part two is about maintenance technician.They must pay high attention to the safe of the equipment.They also have to master the professional knowledge of the outdoor fitness equipment.Technician should refer to the CAD instruction when installing the fitness equipment and check them regularly.Regular safety inspection and maintenance of outdoor fitness solutions can minimized the risk of misfortune.
Part three is about most of us users.There are three steps to keep our safety when we exercise.Firstly,we should choose the suitable fitness equipment.Some outdoor fitness equipment is designed for different users.The next step is the purpose should be known.Which we want to do,aerobic exercise,anaerobic exercise or just for fun.Do we want to be slimmer or be stronger?It's the key step that we should master some knowledge of the fitness equipment.Users can search some professional video online.The video will indicate users to exercise in a safe and efficient method.After choosing a suitable fitness equipment and mastering a correct method,we should check and assure the equipment is well .If it was,we will start to use the park fitness equipment when finished the warming up.
Only exercise correctly can we get a good exercise experience.Supervise the children when they are using outdoor fitness equipment.And the patients with heart disease ,high blood or other serious illness use outdoor fitness equipment with caution.Everyone do exercise should according to our exercise level.Please stop to take a rest when you feel uncomfortable during do exercise.Go to see a doctor if it is necessary.Last but not least,we should take care of others safety.We should use the equipment carefully,please stop it when someone stand close to us.If you found someone is uncomfortable,please give him a hand.It is everyone's duty to protect the outdoor fitness equipment.This is a reflection of our quality.Please obey the tips that i mentioned.Let us follow the above tips to have a good exercise experience.