The playground at Van Saun Park in Paramus, New Jersey.

Young boys playing in a New York City street, 1909. Through history, children played in their villages and neighborhoods, especially in the streets and lanes near their homes. In the 19th century, developmental psychologists such as Friedrich Fröbel proposed playgrounds as a developmental aid, or to imbue children with a sense of fair play and good manners. In Germany, a few playgrounds were erected in connection to schools, and the first purpose-built public-access playground was opened in a park in Manchester, England in 1859.
The main points are as follows:
The types of outdoor playground equipment
The most popular outdoor playground equipment
The most dangerous outdoor playground equipment
1. the types of outdoor playground equipment
Modern playgrounds often have recreational equipment such as the seesaw, merry-go-round, swing set, slide, jungle gym, chin-up bars, sandbox, spring rider, trapeze rings, playhouses, and mazes, many of which help children develop physical coordination, strength, and flexibility, as well as providing recreation and enjoyment and supporting social and emotional development. Common in modern playgrounds are play structures that link many different pieces of equipment.
Playgrounds often also have facilities for playing informal games of adult sports, such as a baseball diamond, a skating arena, a basketball court, or a tether ball.
Public playground equipment installed in the play areas of parks, schools, childcare facilities, institutions, multiple family dwellings, restaurants, resorts, and recreational developments, and other areas of public use.
A type of playground called a playscape is designed to provide a safe environment for play in a natural setting.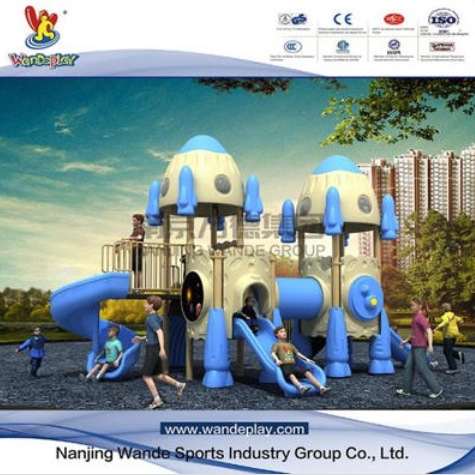 2. the most popular playground equipment
Tango Swing Seat
The Tango swing seat allows an adult or an older child to swing face-to-face with the toddler, promoting intergenerational play and positive interaction.
NRG Steel Trail Play
A modular range boasting contemporary curved lines and exciting physical challenges, our NRG trail play system supports children's physical development and helps them build confidence and coordination skills.
Meeting Points
Outdoor seating areas designed specifically for older children and teenagers, to provide them with a safe space to hang out with their friends.
Titan Carousel
Inspired by fairground rides, the Titan allows five players to spin around at an exhilarating speed, providing hours of endless fun.
Primary Arena
A multisports court designed for children which offers high play value and supports their physical and cognitive development.
Spinmee Roundabout
The Spinmee roundabout provides easy access for wheelchair users and promotes inclusive play.
Orbit Roundabout
Operated by the players themselves who use their body strength to spin the unit around, the Orbit roundabout provides positive interaction opportunities and encourage face-to-face communication.
Viper Swing
The Viper swing can be used in different ways by players of all ages and abilities. Its bold curves will spark immediate attention.
3. The most dangerous playground equipment
According to the Amplatz Children's Hospital at the University of Minnesota, the following types of equipment are never safe on playgrounds:Children should never stand on swings animal-figure swings.
According to the Consumer Product Safety Commission, one specific model of animal-figure swing has lead to one fatality and seven serious head injuries due to its great weight and size;
glider swings that hold more than one child at a time;
free-swinging ropes, as they may unravel, fray or form a noose. Never let a child tie a leash, a jump rope or other type of rope to playground equipment;
exercise rings (the kind used in gymnastics) and trapeze bars;
monkey bars; and trampolines.
While ensuring that the safety of playground equipment will mitigate the dangers they pose to children, the protection is only partial if safe behaviors and practices are ignored. Specifically, children should be monitored to never do the following on playgrounds:
roughhouse or push each other while on playground equipment;
misuse equipment, such as sliding head-first down a slide, climbing guardrails, or leaping from or standing on swings;
jump from equipment if another child is in the way;
leave backpacks, bikes or other items near equipment;
use equipment that is wet and slippery;
use equipment that is uncomfortably hot;
wear necklaces, purses or clothes with drawstrings, as they pose snag and strangulation hazards; or play outside on a sunny day without sunscreen.
In summary, playgrounds should be enjoyable and safe havens for children and parents alike, but they can be dangerous places if equipment is poorly designed or inadequately maintained, and if basic safety practices are disregarded.