Who is Climbing rope net suitable for?
Views:0 Author:Site Editor Publish Time: 2020-11-12 Origin:Site
The city is full of traffic and high-rise buildings, which bring convenience to our lives, but also deprive children of natural contact, so we created outdoor play equipment. The purest meaning of climbing rope net is to give children the space for growth and play, so that every child has a happy childhood.

Here is the content list:
Who design the favorable climbing rope net?
Who do we design climbing rope net for?
What advice can purchasers of outdoor play equipment get from us?
Who design the favorable climbing rope net?
The outdoor play equipment is uniquely crafted by our designers. There are a variety of shapes to choose from, and the colors are rich and the quality is durable. The outdoor climbing rope net can also be combined with the slide, freely collocation, to construct a hierarchical children's playground.
Children climbing rope net is carefully designed according to the climbing preferences of children. When children climb, it makes them feel as if they are climbing a mountain. The adventurous but safe challenge activities enable them to learn to overcome difficulties during climbing, cultivating tenacious willpower and self-protection awareness.
And what we children climbing rope net manufacturers have to do is to exclude all unsafe factors in the design. Outdoor play equipment adopts strong nylon rope, steel cable and cast aluminum connector structure. If properly maintained, it can be used outdoors for many years. And within one year, we provide highly user-friendly free warranty and parts replacement.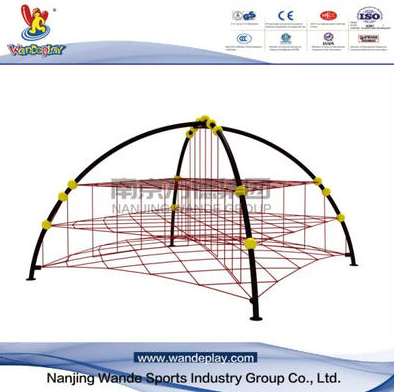 Who do we design climbing rope net for?
Many of our climbing rope net customers are operators of amusement rides. Amusement parks are a symbol of prosperity in the regional economy. Comprehensive amusement parks can meet people's one-stop entertainment needs. In order to gather more popularity and make good use of these population mobility resources, many people have spotted the business opportunities of using children climbing rope net in children's parks.
In the past, children's parks did not advertise very much, and the operation of children's parks was driven by the traffic of the geographical location itself, and this marketing method has become obsolete in the Internet age.
Purchasers of children climbing rope net need to use Internet thinking, break location boundaries, and use online means to promote well. Operators of outdoor play equipment must integrate their own characteristic projects into these network carriers to achieve good publicity purposes.
What advice can purchasers of outdoor play equipment get from us?
In order to grasp the strange and changing tastes of children's playground customers in the Internet age, outdoor play equipment operators need to update their marketing concepts and learn to use corresponding new technologies. Establish segmented marketing thinking and use big data to collect and analyze the information and preferences of mobile Internet users.
Although the time of mobile Internet users is fragmented, their needs are still complete. What outdoor play equipment operators have to do is to use the above ideas and methods to restore and develop their real needs. If your amusement park business is sluggish, consider the following suggestions.
Random decoration
The decoration of the children climbing rope net and other facilities in the amusement park should conform to the children's psychology and perspective, so that the children like the color and style. Therefore, the decoration of outdoor play equipment should be carefully designed, and more from the perspective of children.
Boring facility
Children's playground is a comprehensive amusement park, and the types of outdoor play equipment should be richer. If children climbing rope net has no distinctive style, it will be difficult to arouse children's interest. If you can't catch the children's attention, you can't maintain the parent's user loyalty. Therefore, it is necessary to diversify outdoor play equipment and have more novel styles in order to be competitive.
Lagging marketing
Marketing for children's playgrounds can be diversified, such as season cards or annual cards, which can also be combined with other children's amusement items. At the same time, purchasers of climbing rope net can also organize activities according to different holidays to drive parents' consumption. You can also increase climbing rope net play accessories, such as toys, books and other categories to increase sales profit.
The important thing in operating a children's playground is to change your thinking to adapt to the changing needs of users. Purchasers of outdoor play equipment can promote win-win and common development through joint marketing. If you want to get more information and news about outdoor climbing rope net, you can browse other articles on our website. Nanjing Wande Sports Industry Group Co.,Ltd. will always be your most loyal partner.