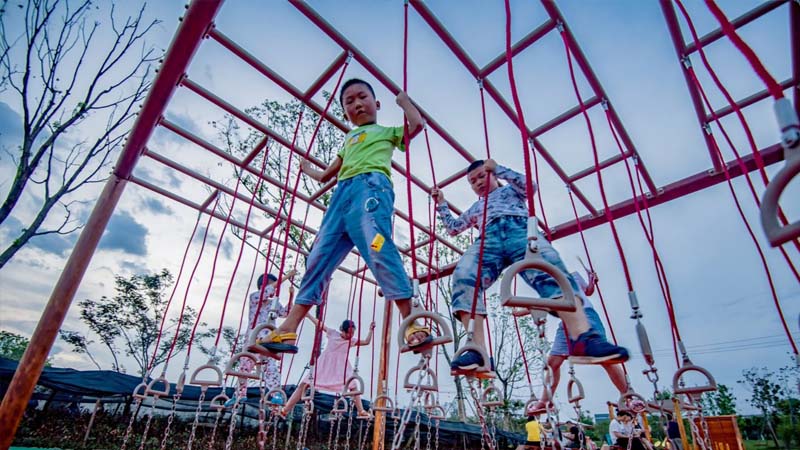 Outdoor playground is one of kids' favorite game, today we will share some ideas about how to run an outdoor playground site.
 1. Grasp market trends
Research on market demand, through a certain area rides consumption conducted extensive investigations and statistical analysis and the results obtained with the law, summed up the characteristics of the market demand, a clear majority of tourists on the market's most popular indoor and outdoor playground equipment, thereby forming a first step in innovation project, provide the most effective guidance for the direction of innovation.
2. Use innovative combinations to create new products
In the amusement industry, especially concrete means Experiencing innovative aspects of the project, innovative combination of lower costs, easier method of implementation. This includes both internal composition between different rides, including a combination of land outdoor playground and water playground the formation of new leisure entertainment experience through product portfolio, but this combination requires not only new, unique, comfortable, and reasonable to function, regional distribution function properly.
3. Change the overall environment, and create a new atmosphere
Ambience attractive recreation projects have an important impact on ambience issues generally include two aspects:
First, the ambience is relatively old. For a long time some of the indoor recreation projects, environment often seem to aging, old, dark overall atmosphere, a lot of this problem a long time operating playground has, by updating the environmental atmosphere to achieve innovation. Such as a longer useful life, the floors, walls, glass indoor play equipment aging properties, can replace floor tiles, painting walls, playgrounds surrounding open seats rearranged and vacant spaces within the playground redesign improve the overall environment, and create a new atmosphere of amusement, playground achieve an overall update.
Second, the ambience is relatively monotonous. Children's outdoor play equipment many leisure and entertainment venues, do not pay attention to the overall environment to build, it is relatively monotonous. It can be combined with the characteristics of the project itself, create a unique ambience, people immersive feel.